I'm not a huge fan of any "boiled" vegetable, but most St. Paddy's Day recipes call for boiling the corned beef, along with the cabbage, potatoes, carrots and onions.
This year Sterling is making something outside the traditional recipe and is "frying" the cabbage instead of boiling it.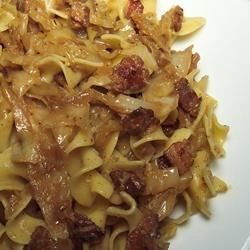 Here's the recipe he's going to be trying out:
FRIED CABBAGE
6 slices bacon, chopped
1 large onion, diced
2 cloves garlic, minced
1 large head cabbage, cored and sliced
1 tablespoon salt, or to taste
1 teaspoon ground black pepper
1/2 teaspoon onion powder
1/2 teaspoon garlic powder
1/8 teaspoon paprika
Place the bacon in a large stockpot and cook over medium-high heat until crispy, about 10 minutes. Add the onion and garlic; cook and stir until the onion caramelizes; about 10 minutes. Immediately stir in the cabbage and continue to cook and stir another 10 minutes. Season with salt, pepper, onion powder, garlic powder, and paprika. Reduce heat to low, cover, and simmer, stirring occasionally, about 30 minutes more.