Okay ... I'm going to give my age away here, as I actually REMEMBER watching the Loretta Young show, which ran from 1953-1961. I always thought she was the PERFECT hollywood starlet ... so refined and beautiful ... and untouched by scandal. Or so we were led to believe.
Story from ABC NEWS:
Judy Lewis didn't find out she was the secret daughter of two Hollywood stars until she was 31 years old.
Lewis only learned the truth when she had an identity crisis just before marriage and her fiancé blurted out, "It's common knowledge, Judy," he said. "Your father is Clark Gable."
Lewis, a former soap opera star, died Nov. 25 at the age of 76 in Pennsylvania, leaving behind a sordid tale of family deception – one that is all too common in Hollywood.
Her mother was Loretta Young, a budding actress, who told Lewis she was adopted after getting pregnant in a short-lived affair with Gable, the rogue romantic lead with the trademark big ears in "Gone With the Wind."
For years, her mother reportedly hid Lewis' Gable-like ears under a hat and had them surgically clipped at the age of 7 to quell rumors about her parentage. According to her obituary today in The New York Times, Lewis spent the first 19 months of her life being hidden away in orphanages so her mother could protect her career from the shame of pregnancy. Though Lewis was a child of the 1930s and 1940s, when extramarital affairs and out-of-wedlock pregnancies were scandalous, her life story echoes those of other Hollywood celebrities who were or had secret babies.
In the case of Loretta Young, then 22, and Clark Gable, then 34, they had an affair in 1935, while in Washington state filming, "The Call of the Wild." He was married to someone else at the time. Young, a Roman Catholic, went to Europe to wait out her pregnancy, then returned to the United States and put Lewis in a San Francisco orphanage. She later married radio producer Tom Lewis and told her daughter she had been adopted, admitting no biological relation to her.
When confronted in 1966, Young told her daughter the truth. Lewis went public with her story in her 1994 memoir, "Uncommon Knowledge," and after that her mother would not talk to her for three years.
Lewis said in an interview at the time: "It was very difficult for me as a little girl not to be accepted or acknowledged by my mother, who, to this day, will not publicly acknowledge that I am her biological child," according to The New York Times.
In Young's memoir, "Forever Young," she eventually admitted Lewis was her daughter, but refused to allow the book to be published until after her death, which was in 2000.
Young explained that she and Gable would have lost their careers in Hollywood, if the scandal had ever become public. Other actors like Charlie Chaplin and Ingrid Bergman had been banned from acting in the United States when it was revealed they had extramarital affairs, though both ultimately salvaged their star status.
Gable and Young's daughter Lewis worked as a soap actress for years before going back to school at age 40. She went on to become a child psychologist and to specialize in foster care and marriage therapy – a career choice that, "I have no question … was in some way consciously or unconsciously related to healing her own wounds," said psychologist Lynn.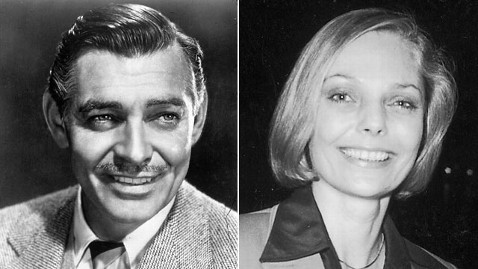 Judy really does take after BOTH her parents, doesn't she?!!