My husband and I love driving over to Des Moines for fun "day trips" since it is only a 2 hour drive away. We have SO MANY "favorite" places to stop for breakfast/lunch/dinner that it's hard to choose each time we go! But one that stands out above the rest is the Iowa Machine Shed. Go and check them out here: http://www.machineshed.com/locations/desMoinesLocation.html
They are famous for their Chicken Fried Steak- just be aware that it's enough for two! And the cinnamon roll - it may be the largest you've ever seen! Dinners are served "family style", accompanied by fresh breads and rolls. The their Iowa Chop may be the best pork you've every tasted!
They have a simply fabulous baked potato soup ... VERY rich, but oh so worth the calories for a special treat. Here's the recipe.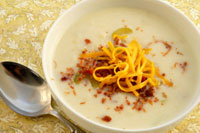 2.5 pounds red potatoes, skins on, cut in bite-size chunks
1 cup chopped onion
1 cup diced celery
1/4 cup Fleischmann's original corn oil margarine
1 quart milk
3 cups water
4 Tbsp. bacon bits
1 cup chicken broth
3/4 cup wondra flour
1 tsp. black pepper
1 tsp. salt
1/2 cup butter
1/4 cup parsley
1 cup heavy whipping cream
Boil potatoes in water to cover (without salt) for 10 minutes.
Drain and set aside.
Saute' onion and celery in 1/4 cup margarine in 5-quart heavy pot over medium heat until celery is tender.
Add milk and 3 cups water.
Heat over medium-high heat until very hot, stirring frequently ~ do not let soup boil. (It's helpful to use an instant-read thermometer to keep track of temperature ~ aim to keep it under 212 degrees.)
Add 1/2 cup butter to soup. Mix chicken broth, Wondra flour, salt and pepper and add mixture gradually to the hot soup while stirring.
Stir constantly until soup bubbles gently and becomes thick and creamy. Constant stirring prevents the milk from scorching, an irreversible mistake. Stir in potatoes, parsley and whipping cream.
Garnishes: green onions, bacon bits, shredded cheese or croutons