Here's a recipe right out of a 1980's Bisquick recipe book. So refreshing for a summer evening dinner party.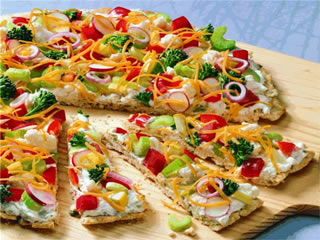 CREAMY TUNA GARDEN WEDGES
2 c. Bisquick baking mix
1/2 c. cold water
1 (8 oz.) pkg. cream cheese, softened
1/2 c. mayonnaise or salad dressing
1/2 c. sliced green onions
2 tsp. prepared horseradish
1/8 tsp. red pepper sauce
1 (6.5 oz.) can tuna, drained
2 med. celery stalks, cut diagonally into 1/4 in. slices
Assorted fresh vegetables (sliced mushrooms, cherry tomato halves, cucumber, chopped broccoli)
Shredded cheese
Heat oven to 450 degrees. Mix baking mix and water until soft dough forms; beat vigorously 20 strokes. Pat dough in ungreased 12 inch pizza pan with floured hands, forming 1/2" rim. Bake until crust is light brown, about 10 minutes. Cool 10 minutes.
Mix cream cheese, mayonnaise, onions, horseradish, pepper sauce, and tuna; spread evenly over crust. Divide dough into 6 wedges with celery slices. Top wedges with vegetables and cheese. Cover and refrigerate at least 1 hour