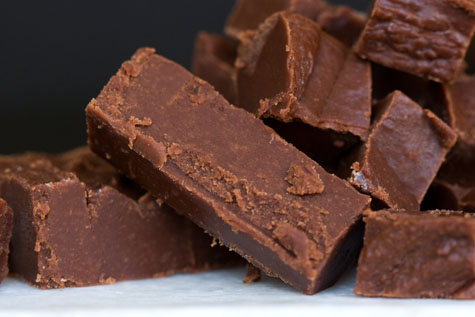 One of my fondest memories as a child is of standing in my Grandma Ollie's kitchen and making fudge together. Waiting for the mixture to get to a "soft ball" stage and then beating the heck out it. Not at all like today's recipes where you just melt some chips and add a few ingredients. I'm talking about the MADE FROM SCRATCH kind of fudge!
Here's her recipe:
2 cups sugar
3/4 cup milk
2 ounces unsweetened chocolate, cut up
(or you can use 3 tablespoons cocoa powder)
1 tsp light-colored corn syrup
2 tablespoons butter
1 tsp. vanilla
1/2 cup chopped pecans or walnuts (optional)
Line a loaf pan (9x5x3) with foil (extending over edges of pan). Butter generously and set aside.
Butter the side of a heavy 2 quart saucepan. Combine sugar, milk, chocolate and corn syrup. Cook and stir over medium-high heat until mixture boils. Clip a cany thermometer to side of pan. Reduce the heat to medium low and continue boiling at a maderate and steady rate. Stir frequently until thermometer registeres 234 degrees (or soft ball stage) ( about 20 to 25 minutes).
Remove pan from heat and add butter and vanill, but do not stir. Cool, without stirring to 110 on the thermometer (about an hour).
Remove thermometer from saucepan. Beat mixture vigorously with a wooden spoon until fudge just begins to thicken.* If desired, add chopped nuts at this point. Continue beating until the fudge becomes VERY thick and just starts to lose its gloss (about 10 minutes).
IMMEDIATELY spread fudge in the prepared pan. Score into squarel while warm. When fudge is firm, use foil to lift it out of pan. Cut fudge into squares. Store tightly covered.
(NOTE: you can also add 2 tablespoons of peanut butter here (*) but just be ready as doing so will cause fudge to harden quickly.
ENJOY!!